Punjab election results 2017: The state is currently governed by the Shiromani Akali Dal-Bharatiya Janata Party (SAD-BJP) combine that has been in power since 2007.
Straying away from the exit polls that had predicted a close fight between the Congress and AAP, the leads are pointing towards complete dominance of the Congress in the state. The party was leading in more than 70 seats at 11:30 am. The AAP might occupy the second spot.
Punjab is currently governed by the Shiromani Akali Dal-Bharatiya Janata Party (SAD-BJP) combine that has been in power since 2007. While past elections in the state were a two-way fight between the SAD-BJP alliance and the Congress, this time the entry of a resurgent Aam Aadmi Party has made the contest an interesting three-cornered one.
Punjab Assembly Election Results 2017 Live Updates
1:45 pm: So it certainly looks like the SAD-BJP alliance will fall behind the AAP in these elections. AAP can take heart in the fact that they will be the main opposition in the state.
1:30 pm: HS Phoolka after his win from Dakha.
Hope Congress don't misrule like Badals, we will keep a check on it, he says.
1:15 pm: EC trends right now
Cong won 22 leading 56 (78)
SAD 1 won & 12 leading
BJP 3 leading
AAP 7 won & 14 leading (21)
Oth 2 leading
1:05 pm: Captain Singh on Bikram Singh Majithia: Don't jump the gun, give me four weeks, let me identify those responsible for the menace
1 pm: It looks the SAD-BJP tally will be restricted to below 20. Disastrous outing for the alliance after ten years in power.
12:49 pm: Amarinder says he was expecting 65 seats but the party has got 70+ seats.
12:44 pm: Kejriwal, who wanted to emerge as a national alternative to PM Modi, is having a bad day. His party is losing in both Punjab and Goa.
12:42 pm: Prominent Sikh riots advocate HS Phoolka is on course for win in Dakha. He was up against Manpreet Singh Ayali of the SAD.
12:40 pm: Smiles all around at the Amarinder presser as the leader enjoys a grand birthday. Congress might go on to win more than 70 seats in the election.
12:35 pm: 
Drugs is the first thing I will tackle: Amarinder
Health, education are all priorities: Amarinder
12:25 pm: Meeting of the CLP has been called for 2 pm tomorrow: Amarinder
Voters in Punjab are intelligent, they recognised that the AAP does not have a good leader: Amarinder
We have seen this many times that a third force comes in. In the end, the voters go towards one side. This is like a summer storm: Amarinder
On whether Kejriwal's CM dreams are over, Amarinder said, 'Yes, It is over'
12:20 pm: Amarinder addressing press now.
12:16 pm: Desecration of the Guru Granth Sahib is the biggest reason for our defeat, AAP ate our votes, not Congress: Tota Singh, SAD
Two more results by the way.
Winner from Bholath constituency – Sukhpal Singh Khaira, AAP
Winner from Chabbewal constituency – Dr. Raj Kumar, INC
12:14 pm: Badal supporters outside his house in Lambi. The CM is on course for victory.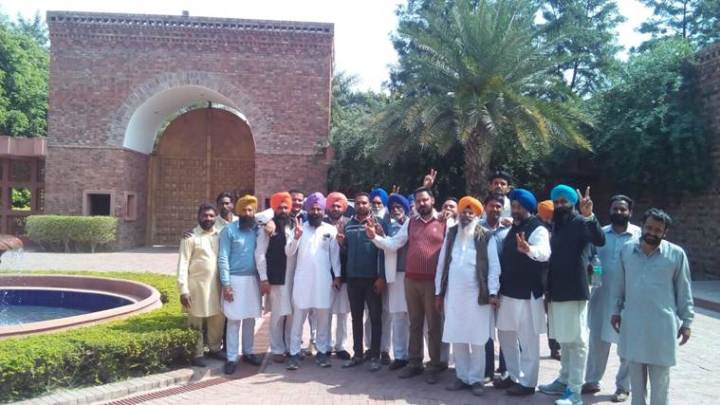 12:09 pm: Punjab ke khazane ko apna khazana samjha, Sidhu talks about Badals
12:05 pm: Unki niyat kharab thi: Sidhu on the Badals
Hamari pagdi ki ladai thi: Sidhu
12:03 pm: Hamara samman hoga, sabka sahyog chahiye, koi badle ka bhavna nahi, Punjab ki khushhali ki dil mein bhot badi chaah hai: Sidhu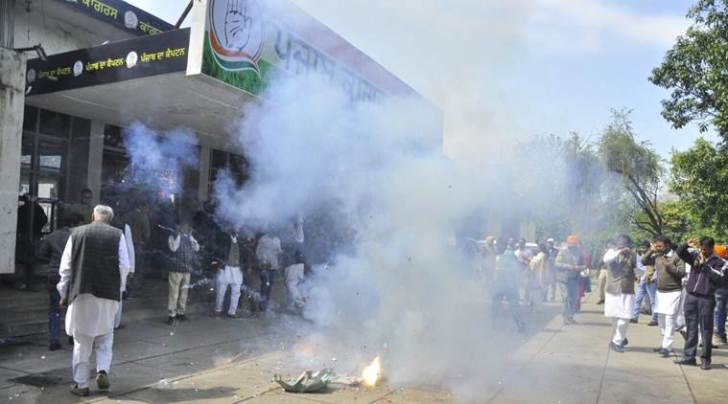 Congress headquarters in Chandigarh. (Source: Express Photo by Sahil Walia)
12 noon: While the BJP's Punjab unit may have anticipated these results, its counterparts in UP and Uttarakhand are in celebration mode with huge victories in those states. In UP, the BJP is leading in 300+ seats, the biggest ever victory any party has got in the state.
11:59 am: First results here.
Winner from Jalandhar West constituency – Sushil Kumar Rinku, INC
Winner from Anandpur Sahib constituency – Kanwar Pal Singh, INC
11:55 am: Congress supporters in jubilation mode. By the way, Amarinder's press conference soon.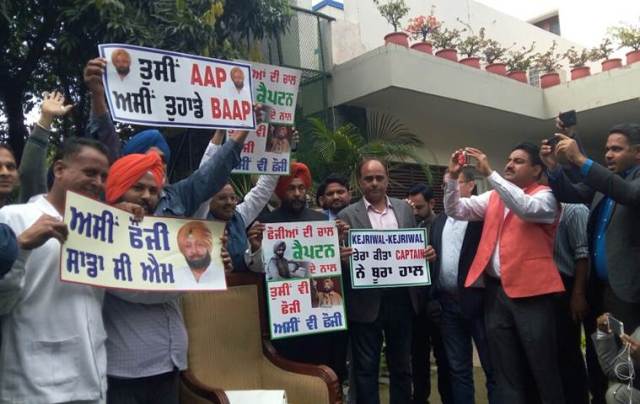 Kamleshwar Singh
11:42 am: Congress leader Asha Kumari said Captain Amarinder Singh will be the Chief Minister, Sidhu's future is in hands of Rahul Gandhi.
There we go. So if Sidhu wants a cabinet seat, he has to get approval from Rahul.
11:37 am: Bhagwant Mann now trailing in second position in Jalalabad. Sukhbir still leading.
11:34 am: Congress' Jagbir Brar leaves counting centre after sixth round as SAD candidate Gurpratap Singh Wadala is ahead by around 7000 votes. Brar says "got  very less time in Nakodar but thankful to people for supporting Congress across state."
11:28 am: We accept people's verdict. Wait little more for the picture to get clear, says Harcharan Bains, media advisor to CM. This is the first official reaction from an Akali leader.
11:17 am: It's time to look at the numbers and understand the poll pulse.
It looks like the AAP has not been able to effectively eat into the SAD vote-share in the state. As of 11:20 am, the SAD vote share in 24% and the AAP is at 23%. Even though the exit polls had predicted a rout for the SAD, it certainly doesnt look like it. The Akali Dal is leading in over 20 seats and the BJP in 2-3 seats.
Also, the AAP has not done as well as it should have in the Malwa belt where it was considered to be strong. The Congress has certainly been the dominant factor in that region.
11:14 am: Congress on course for a marvellous victory in Punjab. It is currently leading in 71 seats according to our trends.
11:10 am: Another poll for our readers
11:09 am: So according to the poll we carried earlier, our readers think AAP will emerge as main opposition to the Congress in the state. Still can't rule out SAD though.
11:08 am: In neighbouring Uttarakhand, the BJP is doing very well. In fact, it could get as many as 50 seats out of 70 in the hill state. Track updates here
11:04 am: Navjot Singh Sidhu has a healthy lead in Amritsar East. It looks like he is going to win after all. Will he be accommodated in the cabinet?
10:59 am: Sukhpal Khaira of AAP leading in Bholath.
Congress celebrations have meanwhile begun outside Moti Bagh palace in Patiala
Congress candidate leading in Fatehgarh Sahib
10:52 am: His party may be losing but Sukhbir is on the winning side in Jalalabad. He might be gaining advantage from a division of votes between AAP and Congress.
As for Lambi, Parkash Singh Badal is leading by 10,000 votes over Amarinder.
10:51 am: Congress 66
AAP 23
SAD 21
BJP 4
OTHERS 3
10:46 am: Happy birthday Amarinder Singh. He turns 75 today and what a good day for him.
10:42 am: A poll for our readers now that a Congress victory looks guaranteed.
10:41 am: SAD-turned Congress candidate Inderbir Bolaria leading by 5256 votes in Amritsar South
10:40 am: Meanwhile, in Uttar Pradesh, the BJP is having a gala time and might even get two-third majority. Unprecedented numbers.
10:31 am: Third round trends from Kharar | SAD's Ranjit Gill leads by 200 votes. Ranjeet Gill 3275 votes , Jagmohan Kang ( 3092) Congress, AAP' Kanwar Sandhu 2558 votes
10:28 am: Chandigarh police watching results at SAD headquarters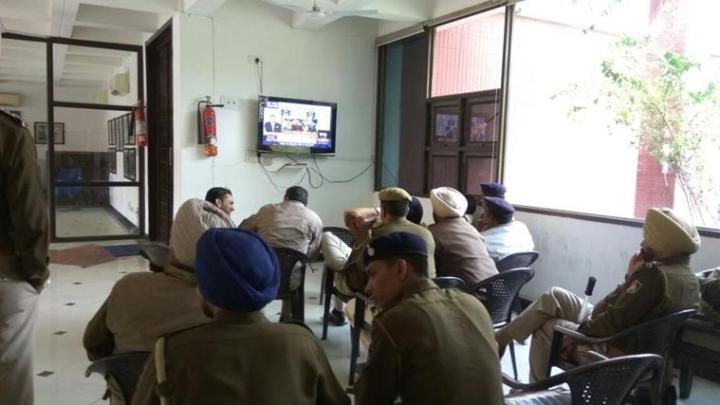 10:27 am: Former hockey captain Pargat Singh of INC leading by 9112 in Jalandhar Cantt over SAD.
10:24 am: Trends from EC
Congress – 63
AAP – 22
SAD- 23
BJP – 5
10:23 am: In Hoshiarpur, Congress ahead on four out of 7 seats.
10:21 am: Congress having a really good run in the state. It is leading in 9 out of 10 seats in Gurdaspur.
10:20 am: Navjot Sidhu is leading by 6,000 votes in Amritsar East. Looks like he will win.
10:15 am: A photo from a counting centre in Punjab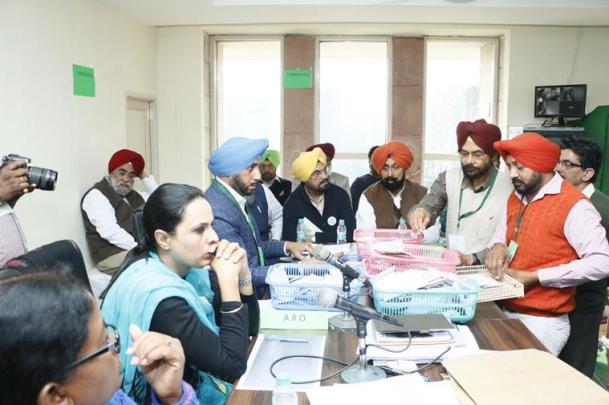 10:13 am: Some of the trends from a few seats:
Five-time MLA Rakesh Pandey (Cong) trailing from Ludhiana north.
Parveen Bansal (BJP) leads. This seat has SAD rebel Madan Lal Bagga and Congress rebel Hemraj Aggarwal contesting as independents.
Sucha Singh Chottepur third in Gurdaspur
10:10 am: In Amritsar Lok Sabha seat, polling for which was held, the Congress is leading by a huge margin.
10:05 am: Lok Insaf Party is leading in 1 seat.
10:04 am: Capt Amarinder leading by 9638 votes in Patiala over AAP
10:02 am: 'These are trends. We will wait for the final results. We will congratulate Congress if it wins. Punjab needs a stable government not a khichdi. We will be a healthy opposition if trends turn into final results. Exit polls had written us off at 6 or 7 seats, but as per trends we are already leading on 27 seats' – SAD Rajya Sabha MP Naresh Gujral
10:00 am: Round 4 leads from Majitha constituency
SAD 14229
INC 9256
AAP 1406
Bickram Singh Majithia is the SAD candidate here.
9:50 am: Trends according to Election Commission (Remember, EC numbers take time to evolve, hence the delay)
Cong 51
SAD-BJP 28
AAP 22
Other 1
9:47 am: It does not look like a good day for the Aam Aadmi Party. All its major candidates are trailing.
HS Phoolka (AAP) trailing by 1667 votes from Dakha. Sitting MLA Manpreet Ayali (SAD) ahead.
9:46 am: Congress candidate Deepinder Dhillon leading by 180 votes in Derabassi. Congress candidate Balbir Sidhu leading by 156 votes in Mohali.
9:43 am: It's looking like a tough fight in the Malwa region where the AAP is really strong. Both Congress and AAP leading in 7 seats each.
9:41 am: Update from Jalalabad where the deputy CM Sukhbir Badal is leading by over 2,000 votes. Bhagwant Mann is in third place.
9:40 am: So the Punjab CM is now starting to get a healthy lead of 3,000 votes over Amarinder. This is a prestige seat for the Badals along with Jalalabad.
9:36 am: Cong leading in 55 seats, very close to half-way mark in Punjab
9:33 am: OB vans are lining outside Amarinder residence in Chandigarh.
9:31 am: Second round leads from Fatehgarh Sahib are here.
Kuljit Singh Nagra (Cong) 8046
Didar S Bhatti (SAD) 5655
Lakhbir S Rai (AAP) 3231
9:30 am: Akali supporters outside Badal residence in Lambi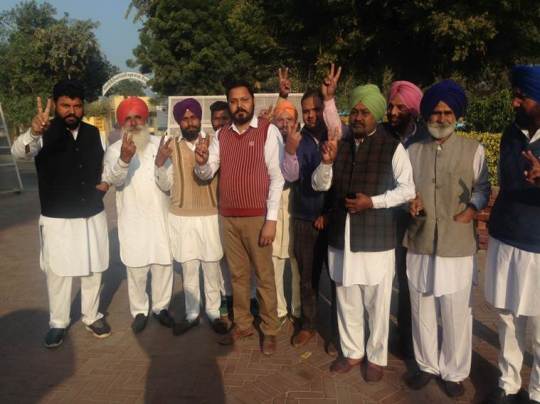 9:26 am: Congress leading in Khadoor Sahib. SAD leading in Lambi, Majitha & Moga
9:24 am: According to EC, AAP leading in Bhadaur, Budhlada, Bathinda Urban, Dhuri and Dirba, Nawanshahr and Nihal Singhwala, Roopnagar
9:19 am: Leads right now:
Cong: 42
AAP: 16
SAD: 9
9:15 am: The exit polls are proving to be right after all. Based on the leads right now, the Congress is winning Punjab. The AAP is in second spot but way far behind.
9:08 am: Bickram Singh Majithia leading in the Majitha seat by 1000 votes according to EC
9:05 am: The only seat where the AAP has a lead according to EC is Bhadaur where its candidate Pirmal Singh Dhaula is leading. Remember, the EC will take some time to update its numbers.
9:04 am: Amarinder Singh leading in Patiala by the way by 3500 votes.
9:00 am: The Congress is way ahead of its competitors in the state with leads in 24 seats. AAP leading in 8 seats and BJP-SAD alliance in 5 seats.
8:55 am: Manpreet Badal, estranged cousin of Sukhbir Badal, predicts 62-70 seats for Congress.
8:42 am: So Parkash Singh Badal leading with 5434 votes in Lambi. Remember, the 89-year-old CM has a tough fight there. Amarinder has 4189 votes currently. These are coming out of the EVMs, so these are worth pointing out.
8:34 am: So leads in 3 seats for Congress, 2 for AAP and 1 for SAD. Is this a trend?
8:32 am: I want to see the defeat of the Badals in front of my eyes, says AAP MP Bhagwant Mann on his way to the counting centre in Jalalabad.
8:30 am: So this is actually funny and strange. The chief electoral officer has told candidates not to taunt losers. Read the complete story
8:23 am: So we have the first leads in. Remember, these are purely postal votes.
2 for Congress, 2 for AAP, 1 for SAD. So its a mixed picture.
8:19 am: The Congress party meanwhile is closely watching over its rebels. If the party wins a simple majority, then the rebels will be kept out. But if the party falls short of majority, it may need the support of the rebels. How does that work out? Read our story here
8:17 am: SAD's Rajya Sabha member Sukhdev Singh Dhindsa has predicted a hung Assembly. That's pretty strange. Read our story here for more details
8:15 am: Unlike past elections, this time the CM is said to have ensconced himself inside the Badal bungalow and has said no to visitors. Is this a sign of preparing for defeat? Read our story here
8:10 am: So we just found out that it is Captain Amarinder Singh's birthday today. He is currently said to be tracking the results from his home in Chandigarh and is expected to go to Patiala only if he wins. Remember, he is contesting from two seats: Patiala and Lambi where he takes on the sitting chief minister.
8:01 am: Police officials at the Mohali district complex that acts as the counting centre.
8:00 am: And it has begun! Counting of postal votes starts. Very soon, we are going to have leads coming in from the state.
7:45 am: So, who are the top candidates in this election?
7:30 am: So, just to give all our readers a memory jog as to what happened in 2012.
Beating anti-incumbency, the SAD-BJP came back to power winning 68 seats. The half-way mark is 59 seats in the 117-member state assembly. The Congress won 46 seats.
7:00 am: So, welcome to the live blog where we will bring you all the updates from the battlefield in Punjab. Remember, we have three key contenders: the ruling SAD-BJP alliance, the Congress and the debutant Aam Aadmi Party. The Congress has been out of power since 10 years and is being led by Captain Amarinder Singh who has termed this election his last one. As for the AAP, it has not nominated anyone for the CM candidate but Bhagwant Mann and HS Phoolka are its top favourites.
The exit poll results have not been favourable for the ruling alliance. All the polls have predicted a rout for the Akali Dal with high anti-incumbency sentiments against it. But the SAD has dismissed the exit polls saying even in 2012 pollsters had predicted win for the Congress only to be proven wrong.
@ stock market advisory
Note: this news is not edited by Ways2capital